Click to call : 9599595187
Alkaline Water Ionizer – Healthier and More Hydrated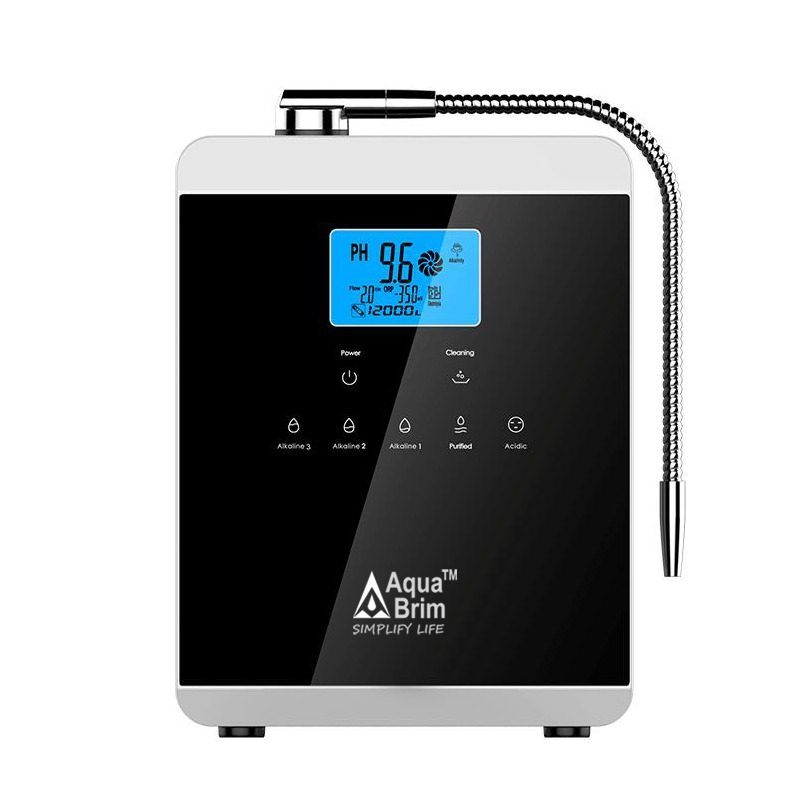 With over decades of experience in water management systems – SINCE 2008, Aquabrim brings you the best yet reasonable POWRFUL ALKALINE WATER IONIZERS. Our ready to use ALKALINE WATER IONIZERS comes with variety of options from 5-11 Medical Grade Platinum Coated Solid Titanium Plates, that allows you to get ionized alkalized water with medically research potential health benefits listed in the US National Library of Medicine Database in no time.
Features
The LCD displays pH and ORP, flow rate, temperature, filters' usage life, helping user to select suitable water.
Using high-power SMPS power supply, it is suitable for many different power supplies in the world, safe and reliable.
The electrolysis with the Microcomputer automatic control system can work perfectly in the water TDS from 50 to 1200PPM
It has a Built-in water filtering system, showing the filter life span in time, to make sure the water quality is safe to use.
It has the self-cleaning function, to prevent scaling.
Imported stainless steel water input & output pipes, never rust, free to be bent to any direction.
Imported Titanium with Platinum coating plates, applied with best quality MEMBRANE, providing higher efficiency electrolysis and longer working life.
There Amazing Antioxidant properties & Health Benefits are only found in Ionized Alkaline Water.
HYDRATION, skin health, and other detoxifying properties.
IMMUNE system support
WEIGHT Loss
CANCER Resistance
ENERGIZE – Boosts Your Energy Levels
FIGHTS FREE RADICALS, Protect Your Healthy Cells
DETOXIFY, Aid in Elimination of Toxins
LOWERS BODY ACIDITY
Balance Your Bodies pH Levels
Replenishes Vital Minerals and Electrolytes.
Our customers have unceasingly associated with us for high quality and impeccable after-sales service.